---
Introduction
Site list (GPS fixes) Walks (GPS tracks) Video clips Panoramas
---
Electronic projects:

Bat detector
Lamp tests
µ-controlled lamp
SEPIC-based lamp
ISP isolators
Making SMT boards
---
Expedition logs:

Spain 1973, 1974,
1975, 1976, 1977,
1979, 1982, 1983,
1985, 1986, 1987,
1988, 1989, 2000,
2001, 2002, 2003,
2004, 2005, 2006,
2007, 2008, 2009,
2010, 2011, 2012,
2013, 2014, 2015,
2016, 2017, 2018,
2019, 2020, 2021,
2022, 2023
Mexico
New England
---
Translation:

---
Name: Cubilla (also called Penilla in some OUCC documents)
Location: Near Castro Urdiales
GPS: N43°21'41" W3°16'37"
UTM: 30T 477.67 4801.20
Lambert: 6334 9732
Map: tbd
Survey: OUCC 1967 » (known to be missing side passages near the entrance)
Description: Large cave (1000m) explored in 1966/67 by OUCC; See OUCC Report 1967 » (called 'Penilla' in that report).
Easy parking off the 'main' road is at N43°21'45" W3°16'34"; there's a good, if steep, track down from there beside/behind the noticeboard.
Visits:
2000 – brief initial exploration
2001 – explore major inlet series on the right (with Spanish survey mark F7); this is missing from the survey and yet sources all the water in the cave – meaning that the main stream is completely unaccounted for
2003 – GPS
2007 – brief 'warm-up' trip
2018 – drone flights and short visit
Other:
Worth another visit.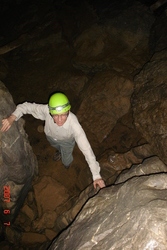 In Cubilla, 2007