---
Introduction
Site list (GPS fixes) Walks (GPS tracks) Video clips Panoramas
---
Electronic projects:

Bat detector
Lamp tests
µ-controlled lamp
SEPIC-based lamp
ISP isolators
Making SMT boards
---
Expedition logs:

Spain 1973, 1974,
1975, 1976, 1977,
1979, 1982, 1983,
1985, 1986, 1987,
1988, 1989, 2000,
2001, 2002, 2003,
2004, 2005, 2006,
2007, 2008, 2009,
2010, 2011, 2012,
2013, 2014, 2015,
2016, 2017, 2018,
2019, 2020, 2021,
2022, 2023
Mexico
New England
---
Translation:

---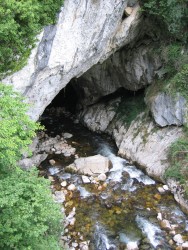 Devoyu river sink, 2006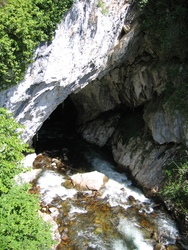 Devoyu river sink, 2007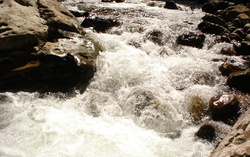 White water in Devoyu, 2007
Name: Cueva Devoyu (AKA: de Bollo, de Boyu, Deboyo, Deboyu)
Location: Río Nalón valley, near Campo de Caso »
GPS: N43°10'41" W5°21'27" (bridge above sink)
UTM: 30T 308.51 4783.49
GPS: N43°10'41" W5°21'41" (10m W of resurgence)
UTM: 30T 308.19 4783.50
Map: (Central Asturias)
Description: An impressive cave taking the entire river.
Both entrances are approached from the old road which has now been bypassed by a modern road tunnel. The resurgence has a grassy area with tables, etc., and easy access. Access to the sink is harder (the road is some height above the river), via a scramble down between the bridge and the sink.
Visits:
2006 – pictures
2007 – in at sink, very wet, more pictures
Other: See www.turismoasturias.es/descubre/naturaleza/espacios-protegidos/cueva-deboyo »; an earlier website (snapshot PDF) has the following (babelfished) description: "The Deboyo cave, is a kárstica gallery of about 200 meters in length by which the Nalón river flows, constituting a geologic formation of remarkable singularity. In crestón limestone under which it is located the Deboyo Cave is developed, in those zones with greater slope and by as much smaller edáfica power, complex of calcícola vegetation, and aulagares in the zones in which the ground presents/displays greater thickness. Also it honors the vegetation associated to the fluvial margin and that is represented by alder groves ribereñas fundamentally. From the point of view of the fauna, the Deboyo Cave has special interest to constitute the refuge of quirópteros cavemen more important of the Natural Park of Networks. This cavity is used by five species of bats, having emphasized the presence of a mixed colony of Mediterranean bat of horseshoe (Rinolophus euryale) and bat of shore (Myotis daubentonii). In addition the presence of at least other three species has been stated: great bat of horseshoe (Rhinolopus ferrum-equinum), dwarfed bat (Pipistrellus pipistrellus) and bat of cave (Miniopterus schreibersii), being this last one catalogued like species of special interest by the Regional Catalogue of Species Threatened of the Vertebrate Fauna. As far as the fauna of his surroundings it emphasizes the presence of certain species protected associated to the fluvial course and that are indicating of ecological quality, like the otter (Lutra lutra) and the excess (Galemys pyrenaicus). The main piscícola species of this section of the Nalón is the common trout (Psalm trutta), being its prohibited fishing to be a zone of absolute prohibition. Also they are present numerous tie birds to the aquatic means between which it is possible to mention the andarríos small (Actitis hypoleucos), aquatic mir it (Cinclus cinclus), martín fisherman (Alcedo athis) and the launderer cascadeña (cinerea Motacilla)."