---
Introduction
Site list (GPS fixes) Walks (GPS tracks) Video clips Panoramas
---
Electronic projects:

Bat detector
Lamp tests
µ-controlled lamp
SEPIC-based lamp
ISP isolators
Making SMT boards
---
Expedition logs:

Spain 1973, 1974,
1975, 1976, 1977,
1979, 1982, 1983,
1985, 1986, 1987,
1988, 1989, 2000,
2001, 2002, 2003,
2004, 2005, 2006,
2007, 2008, 2009,
2010, 2011, 2012,
2013, 2014, 2015,
2016, 2017, 2018,
2019, 2020, 2021,
2022, 2023
Mexico
New England
---
Translation:

---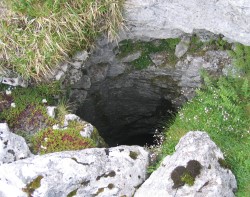 Entrance pitch, Pozu del Vega El Forcau
Name: Pozu del Vega El Forcau
Location: 2.5km SSE of Lago Ercina; altitude 1460m (possibly 1490m, from GPS+map)
GPS: N43°14'52" W4°58'03"
GPS: N43°14'48" W4°58'08" (2011 fix)
UTM: 30T 340.39 4790.42
Map: Macizo Occidental de los Picos de Europa (cave site 15) at x=340.4, y=4790.4, alt. 1480m
Survey:
by members of Forcau '76, 1976 BCRA Grade 4b
Length 1569m, depth 258m
Description: Target of the Forcau '76 expedition, described in detail in OUCC Proceedings 8 » – survey on page 8. Report also available in plain text version ».
Visits:
1975a – locate entrance, with SCAL (Spéléo-Club Alpin Languedocien).
1975b – 07:15 start. With French from SCAL (Philipe, Veronica, Martin, Sallia, Francois, Gilbert, Pierre +2, Alain). Two parties to cave 12:30 and 15:30. Descend six pitches (11, 8, 8-15, 7, 37, 5+25m). Second party leapfrog first and on down 7th (9) and explore beyond to duck, etc. then return to find Gilbert stuck on 6th, requiring assistance out. All finally out by 02:00 and back to camp by 04:00.
1976a through 1976x – full exploration and survey of the cave (Forcau '76 – see references above).
1988 – walk to entrance (BC, EC, MC) in mist.
2001 – 25th anniversary walk to entrance (2hr:15 up, 1:30 down, including many stops).
2006 – 30th anniversary walk to entrance (1hr:40, including side-trips).
2011 – 35th anniversary walk to entrance (1hr:40, including many photo stops).
Other:
The entrance is a bit tricky to find. From the small 'peak' in the middle of the valley (≈200m at 210° from the El Forcau pass) the cave is underneath a brown stone outcrop at 220°, perhaps 200m from the peak.