---
Introduction
Site list (GPS fixes) Walks (GPS tracks) Video clips Panoramas
---
Electronic projects:

Bat detector
Lamp tests
µ-controlled lamp
SEPIC-based lamp
ISP isolators
Making SMT boards
---
Expedition logs:

Spain 1973, 1974,
1975, 1976, 1977,
1979, 1982, 1983,
1985, 1986, 1987,
1988, 1989, 2000,
2001, 2002, 2003,
2004, 2005, 2006,
2007, 2008, 2009,
2010, 2011, 2012,
2013, 2014, 2015,
2016, 2017, 2018,
2019, 2020, 2021,
2022, 2023
Mexico
New England
---
Translation:

---
Name: Cuevas de Balzola, Cuevas de Baltzola
GPS: N43°07'16" W2°43'31", +308m (in depression 30m from lower entrance of the upper cave and 50m from the upper of the lower)
UTM: 30T 522.46 4774.51 (as GPS)
Location: In the Parque Natural de Urkiola (N43°06'56" W2°40'05"); the park is about 6 km South of Durango (about 32 km SE of Bilbao airport)
Description: The caves of Balzola form part of a limestone drainage with sandstone above, and include two large caves and various rock shelters, of both speleological and archaelogical interest. See this report for history and surveys, and this page » for a survey.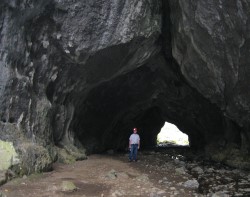 Balzola, upper cave
"The main entrance, some 4m in diameter, presented 3 ways on. Below was the streamway via a free-climbable 2m pitch which presumably exited immediately. To the left was a fossil inlet with easy climbs but requiring access from the streamway. To the right, avoiding the pitch, was a high level passage parallel to the streamway and obviously the main continuation some 4m above the stream. Wearing only a hat and normal clothes the 2m pitch seemed excessive! Taking the path of least resistance the right hand passage was followed and the streamway was soon rejoined in sight of further abandoned sink entrances. These entrances are of such a scale that one remains in sight of daylight throughout the 120m of passage. However the side passages on the left take one out of daylight and it may be that they lead to interesting developments beyond." Some 100m upstream of the top entrances is another short tunnel of 50m.
Visits:
2005 – (Bill) "4km south of Dima he came across the hamlet of Balzola and a limestone cliff face containing an easy cave of the same name. A ten minute walk up a track under a natural rock arch leads to the cliff face containing several entrances. The southern part of the valley is sandstone; there is a small stream."
2006 – visited main cave and upper cave; new archaeological dig has been started in the main cave.
2018 – drove close by on the way to Castro Urdiales.
Urkiola Website: