---
Introduction
Site list (GPS fixes) Walks (GPS tracks) Video clips Panoramas
---
Electronic projects:

Bat detector
Lamp tests
µ-controlled lamp
SEPIC-based lamp
ISP isolators
Making SMT boards
---
Expedition logs:

Spain 1973, 1974,
1975, 1976, 1977,
1979, 1982, 1983,
1985, 1986, 1987,
1988, 1989, 2000,
2001, 2002, 2003,
2004, 2005, 2006,
2007, 2008, 2009,
2010, 2011, 2012,
2013, 2014, 2015,
2016, 2017, 2018,
2019, 2020, 2021,
2022, 2023
Mexico
New England
---
Translation:

---
Name: Cueva del Toyu, Sumidero de Toyo

Location: ~10.8km SSE of Unquera, close to the road along the Lamasón valley

GPS: N43°16'56" W4°29'09" (barn corner) Alt 203m

UTM: 30T 379.56 4793.44 (barn corner)

Lambert: 5349 9643 171 (sink)

Specific GPS points:

Map: Cabezón de la Sal (57-II)

Geo-surveys (geographically-oriented and sized GPX files, using Surveys below, for use with MapGazer):

Surveys:

by Cowlishaw CRG Grade 1, 24.07.1982

by Collis/Cowlishaw/Robertson 1982 300dpi CRG Grade 5b

→ Matches later by Puch well.

by Carlos Puch CRG Grade 5d

Surface sketch by Pete Robertson

Description: Last sink of the Río Latarma, length 585m.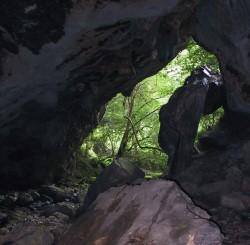 Toyu river entrance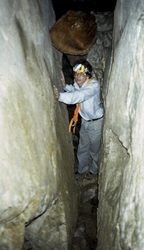 Mike in Toyu
OUCC Report 1975–76 »: "This large entrance swallows the Latarma river which even in dry conditions has a flow of some 100 litres per second. This makes the 14m pitch situated some 50m inside very exciting. In wet conditions a constriction deep inside the cave causes the water to back up. We found evidence of flood debris 20m above the lowest point of the system. However locals inform us that the entire system floods and the water overflows the saddle!
The Latarma resurges at La Manantial del los Baucos, altitude 144m, close to Río Lamasón, and is impenetrable. However both the two high level entrances, la Torca el Fresnedo and Cueva de Rozada give access to all the cave below the Toyu pitch without the need for any tackle."
Also explored and surveyed by Carlos Puch and STD/Club Bathynellidae.
Visits:
1975 – Bill visits entrance
1976 – visit to resurgence (blocked)
1977 – visit: "more water than Porth yr Ogof in flood and pitch far too wet"
1979 – Mike bolted the (very wet) pitch, while B&E 'surveyed the remainder of the cave'; rope was not long enough to bottom the pitch
1982 – four visits (three with PJR) to explore and survey
1985 – barn entrance blocked by sand, bypassed, pushed remaining leads; 3 hours
1986 – "beginner's trip", in dry upper series
2001 – re-locate and photograph
2003 – GPS (corner of barn)
2013 – investigated entrances but did not enter
2015 – Latarma valley walk; noted barn is being enlarged
2016a – Surface re-visit and GPS 'nettle feature' and barn, etc.
2016b – Re-locate NE top entrance and confirm cave
2016c – GPS torca (NW top entrance), then proper caving trip into NE entrance; failed to get to torca from inside!
2017a – Surface re-visit and clear brambles from torca entrance.
2017b – Descent of torca, but unable to through trip; also descended NE entrance and enjoyed cave
2018 – Revisited river entrance (also GPS of resurgence on 3 other days)
Other:
Nice cave.